The Belt Bag
If you follow me and my workshop updates here or on Instagram, you may have caught pictures of The Belt Bag before. It's one of my absolute essentials, which is exactly what I created it to be!
The construction of the belt bag has been carefully designed to give you a unique ease when you wear it. Since the strap is threaded through the bag (like a belt!), its sits flat whether you're wearing it as a crossbody or around the waist. The thing that might surprise you most though, is the inspiration and history behind such a handy accessory…
Some Icy Origins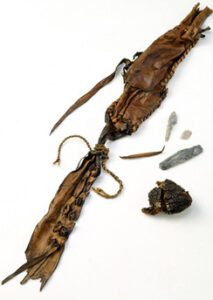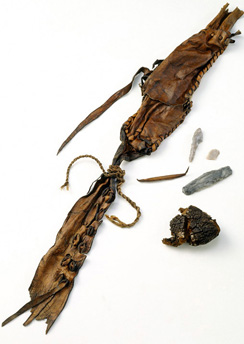 With such a contemporary design, it might be strange to hear that the idea of the belt bag has been around for millenniums. I spotted the Belt Bag's doppelganger in an article by Chuck Kritzon, about the equipment that was found preserved along with the body of the Ice Man. For anyone unfamiliar, The 'Ice Man' is an ancient, mummified body that was found by a tourist in the Tirolean Ötztal Alps in the 90's. He's also famous by the name Otzi, and dates way back to 5300 years old.
And seriously, The Ice Man had a belt bag. The original attire that he was found frozen in included a backpack and a pouch built into his belt that contained a few flint tools. This means 5300 years ago belt bags were just as convenient as they are today!
Let's break it down…
To get down to the basics, belt bags a re functional accessories generally worn on the hip or round the waist. You might know them by other names, like fanny pack, waist bag, and of course the good old English Bum Bag.
All of these styles have one thing in common: they keep our immediate items close at hand. They're conveniently sized, so you can carry all your essentials when there's no need to lug around a larger handbag. Think of those moments where you just need your wallet, phone, keys, glasses, lip balm, travel cards, you get the picture. All those tiny items that are just a smidge too big for a pocket. Or even better, the perfect solution for those frustrating garments without pockets (one of the most common pet peeves, right?!). A belt bag is perfect on the go – it won't weigh you down.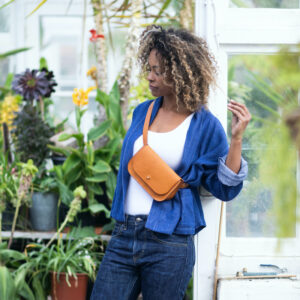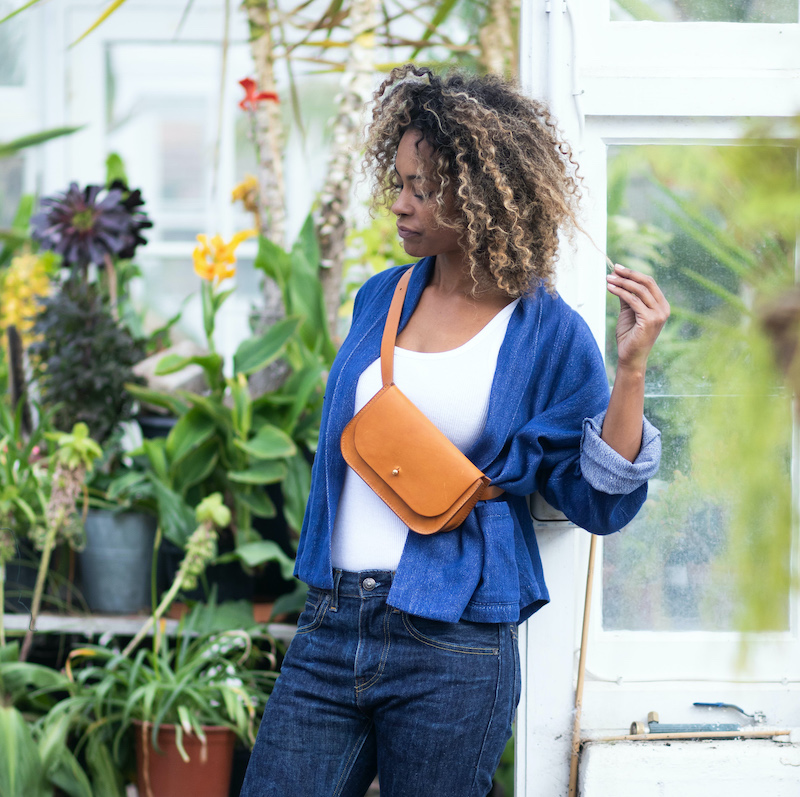 I personally love a belt bag, especially for a modern, minimalist 2022 look. It puts a contemporary spin on something so functional, the clean leather lines creating a neat angle when wrapped around the waist. Believe me, when trade show time roll around or it's time for a weekend market, you can bet on the accessory I'll be wearing.
The Belt Bag always feels like a perfect solution – handsfree means no more rummaging about trying to locate your keys at the bottom of a black hole of a bag. No more having your phone permanently attached to your hand. And it can even add a touch of casual professionalism – no more fishing for your business cards at a networking event or trade show!
Take it from my customers, who have it down as one of their favourites!
"Absolutely perfect! I'm on my feet all day at work and needed something to house my phone, which is always in use, other than my back pocket. It was so easy communicating with Paula, asking for a slightly longer strap to wear like a cross body. Craftsmanship is top notch as usual, and the leather is just divine. Thanks again!" ~Sossy23
"My P Kirkwood Belt Bag has become an absolute necessity. It functions like the most convenient pocket ever, with the huge bonus of adding a stylish touch to anything you wear. Since it sits on your body like another layer it integrates so well into any outfit, and the quality of the construction and leather is undeniable. When it's not out and about, it's hanging at my door housing all of my essentials so I don't have to think twice before running an errand." ~ KT
Here's why a belt bag would fit perfectly into your life:
It's hands free. The convenience of being able to carry what you need without having to think about it is a total win in my book, and for many uniformed professions as well.
Great for travel. Wearing it on your chest is a great way to keep all of your most important things easy to access and safe too – no checking if anything's fallen from a slouchy, open bag or swiped from a backpack.
These bags are generally small and compact in size. Light in weight and easy to pack away.
Maximum wearability. The style of these bags is so versatile, and sits well with any outfit.
Why the Belt Bag might not be for you:
They are small, so if you prefer a larger bag for your frame then a belt bag might just not be your thing!
If you have lots to carry, like notebooks or a computer, they might just not be practical. Since they're hands free however, it's absolutely possible to sling your essentials in a belt bag and carry your larger items separately!
Basically, if you like the ease of finding your essentials then you should defiantly have one! I swear, I'll be wearing a version of a belt bag for a good long time to come – it'll be a challenge to see a reason not to!
Take a look at some of the styles I made earlier…